Received Quality Excellence Award from Panasonic Industry Co., Ltd.
September 13, 2023
TANAKA Kikinzoku Kogyo K.K. (Head office: Chiyoda-ku, Tokyo; CEO: Koichiro Tanaka), which operates an industrial precious metals business as the core company of the TANAKA, announced today that it has received the Excellence Award in the Quality Category at the Excellent Partners Meeting held on June 29, 2023, hosted by Panasonic Industry Co., Ltd. (Panasonic Industry).
The Quality Category Award is given to suppliers of the Panasonic Group that are recognized as particularly outstanding in leading to reduction of CO2 emissions and enhancement of Panasonic products. Out of the 772 applications, TANAKA Kikinzoku Kogyo was recognized for its high-quality products. Approximately 100 companies participated in the Excellent Partners Meeting, and the Quality Category Award, Technical Contribution Award, and SCM Award were presented.
As a precious metals professional, TANAKA will continue to meet the needs of its customers through the manufacture and sale of high-quality, high-performance products.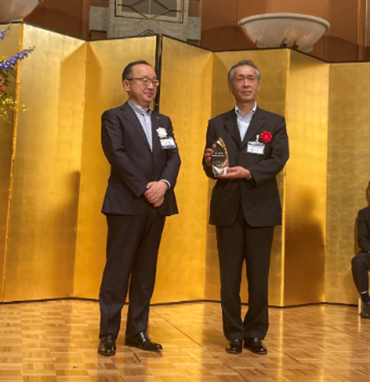 The award ceremony