Precious metals used in various ways in everyday life
Everywhere1
Platinum alloy is used for the magnetic layer of hard disks in computers, hard disk recorders, car navigation systems and video cameras, etc. How interesting that platinum could be a magnet!
Everywhere2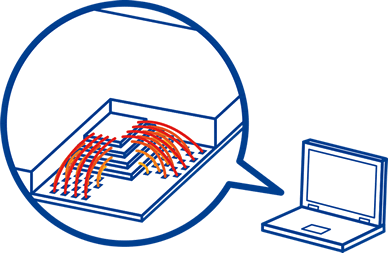 Semiconductors are used in many products that are essential to our daily lives, including vehicle power controls, cell phones, computers, TVs and other consumer electronics appliances. Gold bonding wire is used to connect/relay those silicon chips to external electrodes. Did you know that the amount of gold wire used every day worldwide could extend the whole way around the world?
Everywhere3
Gold-tin alloy bonding material (lid) is used to hermetically seal crystal oscillators in cell phones and smartphones. Precious metals are used in many other parts as well, with about 0.4 kg of gold, 0.1 kg of palladium and 2.3 kg of silver in every ton of cell phones and smartphones produced.
Everywhere4
Complex brazing is used in assembling components that withstand highspeed gas and assist with heat exchange in rockets and other engines. Precious metals for brazing filler fulfill applications in the harsh conditions of aviation and aerospace.
Everywhere5
Within the cylinders of an engine, the heart of an automobile, a mixed gas of compressed gasoline and air is repeatedly ignited, by electrical discharge sparks, and combusted. Iridium and platinum alloy are used in discharge electrodes, as high durability spark plugs within the harsh, high-temperature environment inside an engine.
Everywhere6
Platinum or platinum alloy catalysts are used as electrodes in the heart of fuel cells, where hydrogen and oxygen are converted into water. Using this principle to generate electricity, Fuel Cell Electric Vehicles (FCEVs) are truly non-polluting because their only emission is water.
Everywhere7
Gold colloids are used as color reagents to create detection lines for in-vitro test kits for influenza, pregnancy and other testing. They have also recently begun being used in rapid test kits for detection of such things as bird flu and new strains of influenza.
Everywhere8
Use of cell phones and portable music players has increased rapidly recently. Gold, silver and palladium, etc. are used as wiring and other materials inside these devices. Only minimal precious metals are used in a single device, but these days so many devices are being used that it has become important to collect scrap for resource recovery.