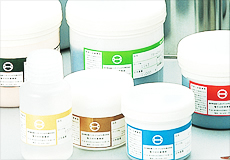 Thick Film Paste Solutions by Tanaka Precious Metals

– Precious Metal Film Formation –
TANAKA has the integrated approach and extensive knowledge only possible from a precious metals company.
Thick film paste solutions
We perform integrated manufacturing and processing from powders to thick film pastes to suit customers' needs.
Since 30% of our manufacturing staff members are dedicated development specialists, we can optimally realize required characteristics and maximize the performance of thick film pastes through our detailed service.
Paste products Inspection-shipment
Examples of thick film pastes
Pastes for electronic parts and circuits
Conductive adhesives for die-bonding
Precious metal powders for pastes
Low stress Ag adhesives
Ag pastes for LED boards
Pt and Pt alloy pastes
for high temperature sensors
Ag pastes for LTCC
<!–
Take a tour and experience one of our thick film paste development and manufacturing sites!
Interested parties may visit our Shonan Plant or Kariya Office in Aichi, which feature advanced analytical equipment in addition to our manufacturing facilities, as well as take a tour of our thick film paste manufacturing process. At our Kariya Office, customers are able to print and fire thick film pastes on their own samples in addition to conducting SEM and EDX analyses on-site. Please note that prior meeting will be held because preparation of pastes, printing boards and others for printing and firing is required.
–>