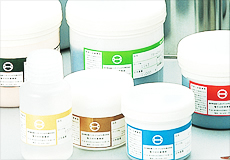 Thick Film Paste Solutions by Tanaka Precious Metals

– Precious Metal Film Formation –
TANAKA has the integrated approach and extensive knowledge only possible from a precious metals company.
Thick film paste solutions
We perform integrated manufacturing and processing from powders to thick film pastes to suit customers' needs.
Since 30% of our manufacturing staff members are dedicated development specialists, we can optimally realize required characteristics and maximize the performance of thick film pastes through our detailed service.
Paste products Inspection-shipment
Examples of thick film pastes
Pastes for electronic parts and circuits
Conductive adhesives for die-bonding
Precious metal powders for pastes
Low stress Ag adhesives
Ag pastes for LED boards
Pt and Pt alloy pastes
for high temperature sensors
Ag pastes for LTCC